Huntingdonshire District Council and the Food Standards Agency urge you to ask "where's the sticker?" and check the food hygiene rating when choosing somewhere to eat. If you enjoy eating out, the Food Hygiene Rating Scheme (FHRS) makes a real difference in helping you make a good choice.
When you're choosing somewhere to eat with family and friends, you want to know that the business takes food hygiene seriously. Checking the rating before you sit down is one of the things you can do for peace of mind and to help keep your loved ones safe. It also helps you avoid any unpleasant surprises or the social embarrassment of finding out the business has a poor food hygiene rating.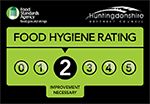 The ratings range from 0 (urgent improvement needed) to 5 (very good) and give you an insight into the places you can't see, like the kitchen. This means you can make an informed choice about where you eat, leaving you to concentrate on the other things that make for an enjoyable meal.
Cllr Roger Harrison, whose executive responsibilities include food safety, said: "To check for the food hygiene rating first, look for the green and black rating sticker on the window or door. If you don't see one, simply ask an employee "where's the sticker?" The Food Hygiene Rating Scheme provides information about the food hygiene standards found by our food safety officers when they inspect food outlets to check they are meeting food hygiene law. This law is in place to protect peoples' health."
You can also check the rating on the Food Standard Agency's website. You don't have to settle for poor hygiene standards. If the rating sticker is not on display, what does that tell you? Make sure the place you choose is taking food hygiene seriously. Ratings for over 440,000 food businesses are listed - over 93% have a rating of 3 or above, so there's plenty of choice.
Displaying the rating is good for business too. Any food business, no matter how small, can achieve a top FHRS rating of 5. A good rating is something to be proud of, so display your sticker at your premises. Don't leave potential customers guessing how seriously you take food hygiene, or worse, assuming you have something to hide. Many businesses already displaying their rating say it has made a difference by improving reputation and increasing customer numbers and confidence.
The FHRS campaign encourages people to look for the green and black rating sticker and have peace of mind that they are making a responsible choice in keeping their family and friends safe. So don't miss out - make sure you display your sticker in the window or door for customers to see.
Visit our Food Hygiene Rating Scheme page for more information.