The LRSG Continuous Payment Scheme supports businesses that were previously providing services as usual, providing services in person to customers from their business premises, but which were then required to close due to lockdown restrictions imposed by the government and also businesses 
The LRSG Continuous Payment scheme is only for businesses that pay business rates on their premises. The grants paid out will be dependent on the business's rateable value, the status of the business and the date the business began trading. 
Applications for grants covering the period 2 December 2020 to 15 February 2021 have now closed. This includes:
Tier 2 Open and Closed

Tier 4

National Lockdown 5 January - 15 February 2021

Closed Business Lockdown Payment
If you have previously applied and are currently awaiting a decision, your application will not be affected and will continue to be processed accordingly. 
We are still taking new applications for businesses that were affected by National Lockdown 16 February - 31 March 2021. The business must have begun trading before 15 February 2021 and the following thresholds apply:
Scroll for more
| | | | |
| --- | --- | --- | --- |
| Rateable Value | Up to £15,000 | £15,001 to £51,000 | £51,001 or over |
| Grant per 44 day qualifying period | £2,096 | £3,143 | £4,714 |
If you have already applied for an LRSG grant and are an eligible business, you will automatically be added to the payment run for this grant or may have received it already.
If you have not previously applied, you can make an application until the scheme closes on 31 May 2021.
How do I apply?
You will need to have a My.Huntingdonshire account to access the application form and receive updates on your application - please check the Notes tab within your account. 
If you don't already have an account, you will need to register for one. 
If you have already registered, please click on the button below, sign in to your account and complete the application form. 
Apply for a LRSG Continuous Payment Grant
Before you start your application, please make sure you have the following:
your Business Rates reference number – this is on your Business Rates bill 

your Companies House number - if you are a limited company 

your passport or driving licence – if you are a sole trader or partnership 

your Unique Tax reference number – if you are a sole trader or partnership 

your VAT number - if you are registered to pay VAT 

a recent bank statement – The business name, account number, sort code, date and business transactions must be clear and legible. You can scan this and upload as a PDF document or take a picture of it and upload as a JPG or PNG file

the bank account details to which the Support Grant is to be paid.
Please ensure that all your documents are clear and legible. If the documents you upload in your application form do not cover the periods specified, or if any of the information contained is not legible, we will not be able to process your application form - it will be rejected and you will need to reapply for a grant.
Please be aware we can not accept HEIC attachments. All attachments should be in either JPG, PNG, PDF or Word format.
Upload size should not exceed 12Mb
Please check the Notes tab in your 
My.Huntingdonshire
 account regularly as this is where you will be notified about the progress of your application. 
We will notify you here if your application is successful, if it is rejected (detailing the 
reason
) or if there are any issues with your application.
How can I check updates to my application?
Log in to your MyHuntingdonshire account.
Once signed in, click on 'Track my requests'

Click on the 'Complete' tab and then click on the arrow for the relevant application. You can find the application reference number (which is a string of 8 capital letters) on the email that was sent to you when you submitted your application for a grant. It can also be found under the Documents tab, where you application has been uploaded.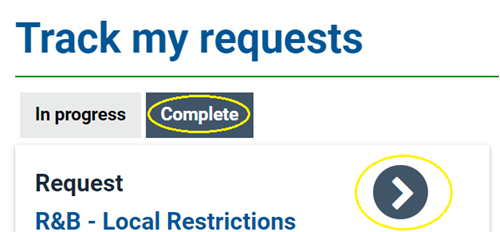 This will then open as below - click on the 'Notes' tab to view any updates.

Please note that a Note will be added here when your application has undergone its initial validation check. We will notify you here if it has passed and moved on to mandatory pre-payment and anti-fraud checks or if it has failed, stating the reasons why. If there are no Notes here your application is still in the queue for review by the team, which we aim to complete within 3-5 working days of submission.
Please be aware that an eligible, complete, and correct application takes up to 15 working days to process to payment. Payment instructions can take an additional 3-5 working days for banks to process.
Example application timeline:
Application form and correct documents submitted on 1 April

Initial processing and identity validation - up to 5 working days

Third party fraud checks – up to 9 working days

Payment processing – 1 working day

Payment to arrive within bank account 3-5 working days

Payment likely to be received by 30 April