Please read the following instructions before you start your online Enhanced Disclosure and Barring Service (DBS) application.
Required documents
If you don't have at least one of the identification documents listed below you should seek clarification before starting your application as you may not be able to submit your application online:
current valid passport
biometric residence permit (UK)
current driving licence (UK, Isle of Man/Channel Islands) (full or provisional)
birth certificate (UK and Channel Islands) issued within 12 months of your date of birth.
Detailed information about the documents you will need to provide can be found on GOV.UK.
Apply online
Go to the Care Check website to start your application. You will be asked to enter our Organisation Reference, which is HDCLIC. Please leave the Organisation Code field blank.
When you get to Section 4 (Employment Details) of the application, please fill in the fields as shown below: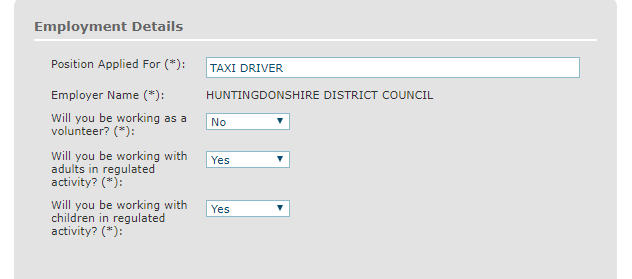 If you have any questions about completing the online form please contact Care Check directly by calling 0333 778575 or using the online chat facility.
Verification of identification documents
Once you've completed the online application you will need to visit our offices at Pathfinder House, Huntingdon, so we can verify your identification documents. Please note that we will delete your application after six months if you don't attend to verify your documents.