Enhancement plan proposed for St Neots Riverside and meadow pathways
Riverside Park is a key strategic green space in St Neots and we are pleased to be able to share with you our plans for its enhancement.
The project will create a safe and accessible route along the beautiful River Great Ouse frontage, supporting park users in benefiting their health and wellbeing.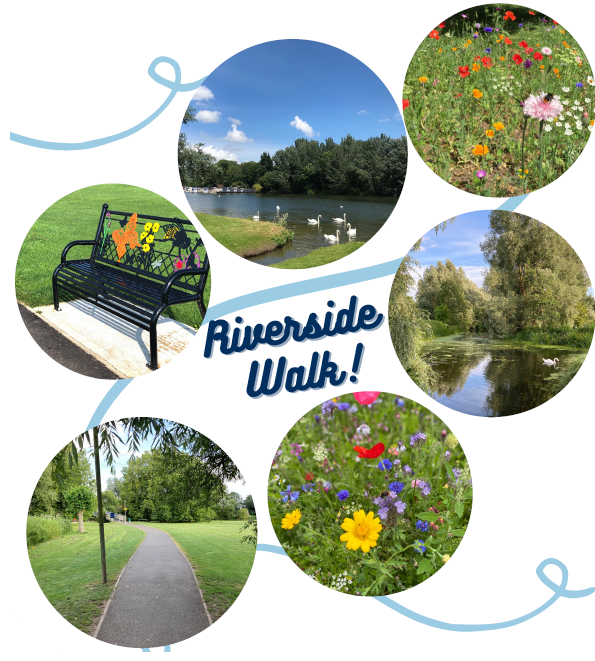 The project is in line with:
HDC's strategic objective 'We want to make Huntingdonshire a better place to live, to improve health and well-being and support people to be the best they can be'.

HDC's Healthy Open Spaces Strategy 2020-2030

St Neots Neighbourhood Plan and the CPCA St Neots Master Plan objectives.
Project progress
Following a project delay of 20 months due to the COVID-19 pandemic, outline design and costing works were undertaken.
The pathway routes within the park that are most in need of replacement and those that give the best opportunity for supporting user access were identified to be enhanced through this project. The chosen route also showcases the best of Riverside Park and will be highlighted as our designated Riverside Walk after completion.
We are currently within the planning application process (the plans can be viewed on the Public Access website) and are tendering out the project works for contractors. Once contractors have been appointed, we will look to begin construction on this project at the earliest opportunity, considering the conditions of riverside land and impacts of weather.
The project focus is to provide a safe, usable route along a well-loved and picturesque riverbank.
The highlighted footpaths to the right are the prioritised footpaths that will help people to support their health and well-being.
These well-used routes through the park will provide users with a 'Riverside Walk'.
moving (inland), widening and resurfacing of riverside pathways

replacing and widening bridges

replacing existing lighting with new LEDs

installing handrails to the existing footbridge

installing new bench pads

installing 10 new benches.
The Riverside Walk aims to:
connect users with local wildlife whilst passing our popular wildflower meadows

support residents' health and well-being

help users embrace blue space as well as green

provide new resting point infrastructure through our new benches purchased through the Welcome Back Fund

help naturally navigate park users to the town centre to help support our local economy.