Paxton Pits Nature Reserve remains open. The Visitor Centre is open 10am - 4pm every day, subject to volunteer availability. The toilets are open 10am – 4pm every day. In the Visitor Centre drinks and snacks, ice creams, leaflets, wildlife greetings cards and bird food, bird feeders and second-hand books are available to purchase.
The electric powered wheelchair (known as a 'tramper') is available to book and can be used between 10am and 4pm. If you haven't used our tramper before please contact us to arrange a short induction with a Ranger.
Paxton Pits Nature Reserve covers 77 hectares of lakes, meadow, grassland, scrub and woodland where you can enjoy a wealth of wildlife all year round. The reserve is a SSSI (Special Site of Scientific Interest) for its water birds and is well known for nightingales which can be heard singing between the end of April and June.
The reserve supports a wide variety of birds, insects, mammals and flora and this variety of wildlife is one of the reasons why Paxton Pits is such a special place. Many different types of dragonflies can be seen around the lakes and ponds in the summer months and Paxton Pits is now nationally recognised as a Dragonfly Hotspot.
Whether you are painting the scenery with watercolours, bird watching or going for a walk, we hope you enjoy your visit.
The reserve is open to visitors at all times. The Visitor Centre is open 10am to 4pm every day, subject to volunteer availability. The toilets are open 10am to 4pm daily.
The reserve is also home to an Environmental Education Centre, which is managed by the local Wildlife Trust. The Friends of Paxton Pits support the reserve by organising events and activities to raise funds to improve the reserve for people and wildlife.
Browse the Activities and Facilities pages to see all the reserve has to offer, or visit the Paxton Pits website.
See our leaflet and map [PDF, 0.4MB] for directions on how to find us.
Since 2018 Paxton Pits Nature Reserve has held the Green Flag Award, which recognises and rewards the best parks and green spaces in the country.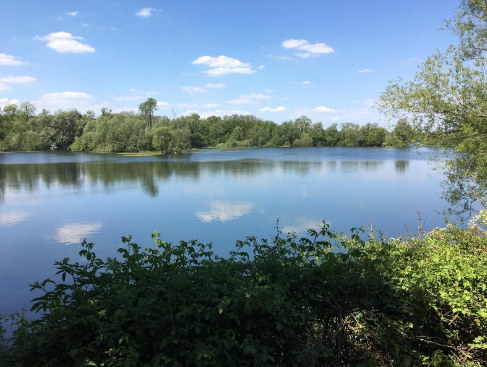 Volunteering
There are a variety of ways in which you can volunteer at Paxton Pits Nature Reserve, through either Huntingdonshire District Council's Countryside Service or the Friends of Paxton Pits (the charity which provides charitable/volunteer support to the reserve).
Huntingdonshire District Council run work parties which are held each week on Tuesdays and Wednesdays when volunteers come in to help the rangers with outdoor practical tasks. The Friends of Paxton Pits run monthly work parties on Thursdays and Sundays through the winter months. Practical tasks can involve vegetation clearance, path maintenance and grassland management. You will need to be reasonably fit and prepared to get wet and muddy!
The Visitor Centre at Paxton Pits, which is currently open seven days per week, is staffed by volunteers. They meet and greet visitors of the reserve, help answer questions and serve refreshments.
Volunteers help to carry out site checks which involves checking that the structures are safe, the paths are accessible and the signs and lifebelts are present, for example benches are not broken and trees aren't obstructing the paths.
The Friends of Paxton Pits run regular outdoor and indoor events, ranging from guided walks to talks on local flora and fauna. Volunteers help set up and run these events. The Friends also have a Wildlife and Survey Monitoring Group which meets monthly to monitor and record vital information about the wildlife on the reserve.
If you would like further information on any of these volunteering opportunities, please contact Russell Taylor (Volunteer Co-Ordinator), download an application form [DOCX, 63Kb] or pick up an application form from the Visitor Centre at Hinchingbrooke Country Park or Paxton Pits Nature Reserve.