Thank you for your interest in educational visits to Hinchingbrooke Country Park.
Most of the information on this page refers to school visits but our activities can be made to suit all groups including home educators, Cub Scouts, Brownies and youth groups. Please contact us with your enquiry.
We can organise a wide range of activities in the varied habitats of our beautiful park and adapt them to suit all ages from early years' fun to college level surveys. Our experienced rangers can teach all ages and abilities. This ensures inclusivity as far as possible, so that all participants get the most out of a visit.
You can read what other teachers have said about their visit to the park by looking at the testimonials from recent school visits. You can also have a look at the Council for Learning Outside the Classroom's website to read about the benefits of a visit to the "great outdoors".
Our activities:
Subject areas and activities we offer are summarised in our brochure.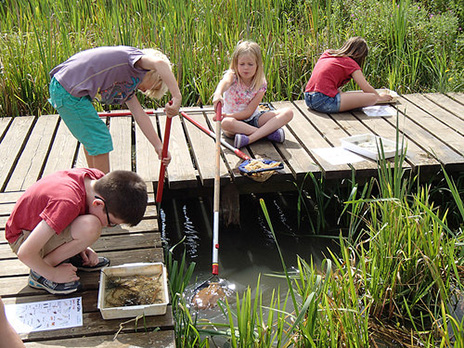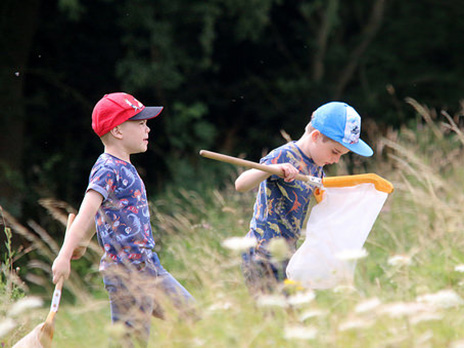 Activities include:
pond dipping
minibeast hunting and surveys
den building
map and compass work
honey bees
habitats
environmental art
literacy
bear hunt
transects
senses
flowers
trees
plants and growth
living things.
For Key Stages 1 and 2 we have a variety of activities you can choose to organise a plan for your day - see our sample rotas for some examples. 
For Key Stages 3 and above, special needs groups and small specialist groups, we can develop days according to your specific needs. Please contact us to discuss your requirements.
The documents below will give you an idea of what we can offer:
We can cater for groups of up to 120 children in one day.
Special needs groups
We can adapt most activities for people with additional needs. We work in smaller groups so that the ranger can give more input into each activity. Generally we try to stay with the whole group all day, so we get to know the individual children. This makes it more fun and beneficial for everyone. Rotas and activities tend to be very flexible and will change on the day, depending on the reaction and participation of the children.
Please contact us to discuss your requirements.
Secondary schools, colleges and further education
We will work with you to develop a session that meets your specific requirements.  We can help you organise a visit and lead some of your activities. Subjects and activities we cover include:
team building

honey bees and pollination

wildlife surveys

transects (pond and path)

fire lighting

management techniques

changing land use

human impact on an ecosystem

map and compass skills

tourism and customer services.
What does a visit include?
A visit to Hinchingbrooke Country Park includes:
a free pre-visit to discuss your activities, run through health and safety, decide on a plan for your day and see the park and areas you will be using

a classroom to use all day*. You can leave your bags here and have lunch inside or outside. The toilets are not used by members of the public

a ranger to lead some of the activities (you choose which activities). We usually have trained volunteers to lead some activities as well

most equipment, all activity instructions (sent to you in advance) and identification charts

a set of rotas for each group (sent to you in advance)

health and safety information, including risk assessments

free parking

free places for your leaders and helpers – the more the better!
*If you are only here for a short time it may work out better for you to pay for an hour or two of the ranger's time. In this situation, there wouldn't be a classroom available.
When to visit the park
We can organise visits all year round. Our most popular times are the summer term and the first half of the autumn term.
We can also organise regular visits, eg every half term, to explore the park during different seasons - this is especially good for pre-school groups.
How do I make a booking?
We recommend you arrange your visit for the summer term before the Easter holidays as we do get very busy. Please contact us to check availability and discuss options.
If you decide to come for a visit you will need to:
provisionally book a date with us

confirm the date with your transport provider

confirm the date with us and give us an idea of your topic and activities

arrange a pre-visit to see the site and plan your day

write your own risk assessments

distribute health and safety information, rotas, activity instructions, maps etc to group leaders and helpers

organise your groups so all leaders know which children they are responsible for and the children know who their leader is

come and enjoy your day!

give us feedback so we can continually improve and adapt what we offer.
Once you have booked your visit, we will send you all the information you need in advance:
a rota for each group

a map of the site

activity instructions

health and safety information, including our risk assessment and a hazards table

the role of adult helpers.
How much does it cost?
A full day visit for over 30 children costs £4.95 per child. There is no charge for leaders and helpers. If you have a very small group of children, please contact us for further details. If you are just here for a short visit and don't need a room, then we charge £35 per hour.
What is the cancellation policy?
There will be a charge for cancellations within a month of the date booked. The amount charged depends on the circumstances and if we can fill the day with another school.
How do I pay?
We will invoice you after your visit. Please make sure you let us know the number of children who attended on the day so we invoice you for the correct amount.
Do we have to book if we want to do our own activities?
Yes. We are very happy for you to organise and lead your own activities in the park – it is a fantastic resource. We would, however, like to know who is coming, where you are working and what activities are planned. We also have experience and resources that can help you get more from your day – our rangers can advise you on suitable locations and arrange other groups to fit around your activities. We can also provide maps and hire out any equipment you may need.
Please note – groups we are organising and leading take priority over groups that just turn up to use the park without letting us know in advance.